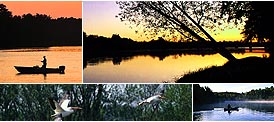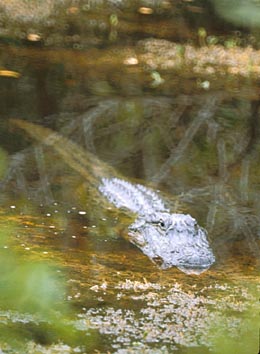 What's In Your Hiking Pack?
by Chuck Fitzgerald

Every time I leave the pavement, I take along my trusty hiking pack – even if I have no intention of hiking. Doing this has become a habit rather than a conscious decision. My pack goes with me when a hike, camp, hunt, fish, bird watch and even when I drive out of town. I've been a boy scout and a United States Marine so I suppose I have learned to be prepared for almost anything. My pack is full of items I hope I will never need. What's In Your Hiking Pack? As an outdoor enthusiast, you have complete control over what you carry or what stays in the car – such as a cell phone, do you carry one? I wouldn't dare go in the backcountry without all of the items listed below as "Highly Recommend." What's In My Hiking Pack? Here is my list split into two categories with the weight of each item in ounces: Highly Recommend: Cell Phone (5 ounces), First-Aid Kit (9), Flashlight (4), Food - Beef Jerky (4), Insect Repellent (3), Map & Compass (4), Multi-Tool (9), Pack (24), Signal Mirror (1), Spare Vehicle Key (1), Sunglasses & Sunscreen (2), Water, Waterproof matches (1), Waterproof windbreaker (24), Whistle (1). Total weight: 5 pounds 12 ounces, not including water. Nice to Have: Bandana (1), Binoculars (12), Cash & ID (1), Disposable Camera (4), Emergency Blanket (1), Extra Batteries (4), GPS Unit (10), Hand warmers (1), Hunting knife (8), Lighter (1), Lip Balm (1), Mini-Umbrella (10), Paper & Pen (1), Rangefinder (8), Road Flare (4), 12 feet of rope (2), Saw (7), Toilet Paper (1), Two-Way Radio (7), Work Gloves (2). Total weight: 5 pounds 2 ounces. The total weight of my hiking pack not counting water, is 10 pounds 14 ounces. My pack has a shoulder harness system that takes the weight off of my lower back and distributes it evenly across my shoulders and upper back. I hardly notice my pack when I'm wearing it. One last point, if you carry something – make sure you know how to use it. We've all heard quotes about being prepared, such as "Chance favors the prepared mind." – Louis Pasteur and "The will to win is important, but the will to prepare is vital." – Joe Paterno and "Chance fights ever on the side of the prudent." – Euripides. I suggest carrying a well thought out pack is a good habit and a good outdoor life-skill. One day it may save a family member, an outdoor companion or even you. Plan ahead before you venture into our backcountry, even if you plan to be gone only an hour or two. It makes good sense. With just this small amount of planning you'll get the most out of your backcountry experiences. Use this information and you'll Get It Right The First Time.

Get Outdoors!

About the Author
Chuck Fitzgerald is the President of Arizona based BackCountry Toys, an online store providing backcountry specialty gear and educational information for outdoor enthusiasts. Visit www.BackCountryToys.com to receive the free newsletter "FreshAir" or call (800) 316-9055.