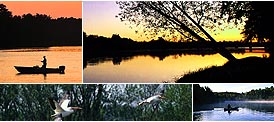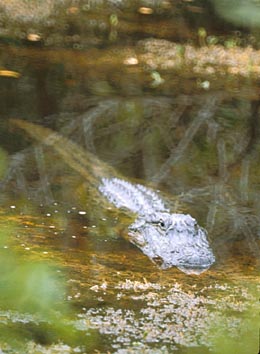 Articles
Fisheating Creek
by Niki Butcher from her 2002 Fall Newsleter - The Muck-About Journal
Fisheating Creek opened our eyes to the beauty of Florida. When our family moved to Florida in 1980 we were living aboard a boat. Sailing was our 'life'. We didn't understand Florida's eco-system and found nothing of beauty in the state to photograph, except for beaches, until we visited Tom Gaskin's Cypress Knee Museum on Fisheating Creek. I am a confessed "mom & pop" tourist attraction fanatic. However, it takes a great deal of effort on my part to convince Clyde to stop and visit a wayside tourist attraction. We had passed by Tom Gaskin's Cypress Knee Museum on Hwy 27 many times and Clyde always refused to stop. Finally, with the encouragement of one of Tom's advertising signs that read, "Lady, hit him on the head with your shoe if he won't stop!", I finally managed to get Clyde to visit Tom's place. It turned out to be a precious jewel, and an experience that changed Clyde's life.
Ol' Tom sold cypress knees, told great stories, and had a catwalk through a cypress swamp. When Clyde walked along the catwalk his emotions were taken back to his love of the Redwood forests. Before him stretched a vista of ferns, water, cypress trees, and palms. The air surrounded him with the deep, dank smell of a primeval forest. His spirit was lost in an ancient memory, and his creative juices came alive. Clyde came back with his camera and spent the day photographing the beauty of the interior. It was the beginning of Clyde's love affair with Florida. When Clyde told Oscar Thompson about this "new" discovery, Oscar invited us to join him and his wife, Miladie, on a canoe trip down Fisheating Creek. It was the first time Clyde and I had gone into the depths of Florida. As we floated down the creek it felt as though we had slipped back in time to the beginning of the earth. The primeval feeling we experienced inspired Clyde to explore other areas of Florida's deep forests. Clyde and I continued to visit, and photograph, Fisheating Creek until it was closed to the public due to a legal battle. The battle lasted many years…so many that we thought we'd never see the creek again, and so when Ellen Peterson called to tell us the creek had been re-opened to the public, and we were invited to the "Annual High Water" event, we responded with an enthusiastic "YES!"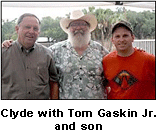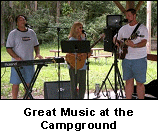 We spent a wonderful weekend at the Fisheating Creek Campground enjoying the company of people who love the creek as much as we do. Clyde brought some small photographs of the creek to hang in their camp store; he also brought his books, and his camera to share with folks. Ellen prepared music and food to celebrate the beauty of the creek. Saturday Brenda Anderson invited us to go on a canoe trip down the creek. We had forgotten the impact of the beauty of the creek. Once again our hearts were over flowing with the joy at being on the creek.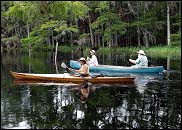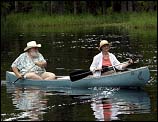 Brenda Anderson, Niki and Clyde - Photographs by Ron McQuaide

Sunday morning we joined Ellen Peterson (who was one of the moving factors at getting Fisheating Creek open to the public), Brenda, Kristin, and WC Lanier in his boat as we all made our way up, and then back down, the creek. There was so much beauty to photograph that Clyde had a hard time picking and choosing…so much to photograph and so little time!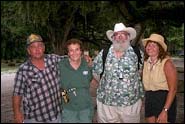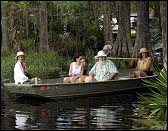 WC Lanier, Ellen Peterson, Clyde, Brenda Anderson

WC grew up near Fisheating Creek and spent his youth on the creek. His stories of the area were filled with sorrow and humor. When we came upon this oak tree WC explained how he grew up swinging on this tree and playing in the creek. He said this is "his place"…and the place he wants his ashes buried when he dies because it is the closest to heaven he has been while still alive.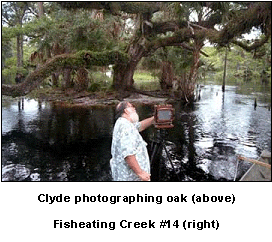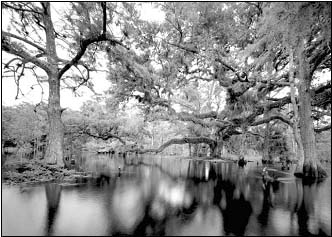 Clyde's second shot was the one Ellen wanted…a picture of the famous Memorial Cypress tree. The tree received its name from an incident that occurred many years ago. Donny grew up in the Fisheating Creek area. As a young boy he was always on the creek that he loved so much. When he grew up and married, he carried on the tradition of fishing and enjoying the creek with his two sons. One day while Donny, a friend, and his two sons were out on the creek they received word of an accident that had occurred on Highway 27. Their help was needed. Donny left his sons in the care of his friend, and took off to help. Due to the confusion at the accident, Donny was killed while he was helping. The whole community was in grief over the death of Donny, so they spread his ashes on the creek he loved so much, and held a memorial at this cypress tree for him. Every year Donny's life is honored while the community ties ribbons around the tree in his memory. As Clyde tried to take a picture of the Memorial Cypress tree, it became an exercised in not drowning! Clyde and WC had climbed out of the boat with the plan of touching ground…it wasn't there! Clyde had to swim around to find a place that had a good composition, but not so deep that the water was up to his shoulders! After taking the picture, he and WC had to swim the boat across the creek to shallow water in order to climb back in.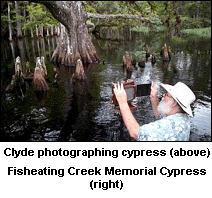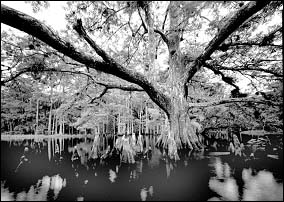 Our state is fortunate that the controversy of Fisheating Creek was settled, and it is now open to the public. Because of Preservation 2000, and the hard work of many people, Fisheating Creek has been saved for future generations to enjoy. We hope that you'll take some time to explore this magnificent area of Florida and always keep it safe so that others can experience the primeval beauty of Florida.

Fisheating Creek Campground is located on Highway 27 in Palmdale, ½ mile north of the intersection of Highway 27 and Highway 29. It has 28 primitive campgrounds, and Fish & Wildlife will be putting in 50 full hook-up sites by Dec 2002. They also rent canoes and kayaks, or you can bring your own. For more information on Fisheating Creek click here www.fisheatingcreek.com or call (863) 675-7855.

To read more by Niki Butcher visit clydebutcher.com - Big Cypress Gallery website