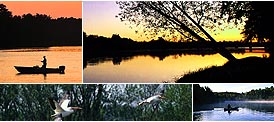 Recreational License & Permit Requirements
Recreational licenses and permits for residents and nonresidents are available at county tax collectors' offices. In addition, they are available from subagents, such as sporting goods stores or other retailers selling hunting or fishing equipment. All license, permit, and issuance fees may be subject to change pending the outcome of this year's legislative session. Prices listed include tax collector's fee. In addition to the cost of a license or permit given in this section, an issuance fee of $.50 may be charged by the subagent selling the license or permit.
If you have a major credit card, the FWC offers you two ways to buy your hunting or fishing license without leaving your home.
Dial toll-free, either 1-888-HUNT-FLORIDA (486-8356) or 1-888-FISH-FLORIDA (347-4356) from anywhere in the United States or Canada.

Follow this link to information on buying your license directly over the internet.

Please note, in addition to the cost of the license, there is an additional $3.95 convenience charge for the telephone service and $1.95 charge for the online purchase.
With either method, you'll have a temporary license number within minutes, enabling you to hunt (in season) or fish right away. Your permanent license will be mailed within 48 hours.