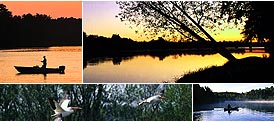 Backcountry Campsites

E V E R G L A D E S N A T I O N A L P A R K
---
| | | | | | | | |
| --- | --- | --- | --- | --- | --- | --- | --- |
| Campsite Name | Type of Site | No. of People | No. of Parties | No. of Nights | Toilet | Table | Dock |
| Alligator Creek | Ground | 8 | 3 | 2 | * | | |
| Broad River | Ground | 10 | 3 | 2 | yes | yes | yes |
| Camp Lonesome | Ground | 10 | 3 | 3 | yes | yes | yes |
| Canepatch | Ground | 12 | 4 | 3 | yes | yes | yes |
| Cape Sable, East | Beach | 60 | 15 | 7 | | | |
| Cape Sable, Middle | Beach | 60 | 15 | 7 | | | |
| Cape Sable, Northwest | Beach | 36 | 9 | 7 | | | |
| Carl Ross Key | Beach | 12 | 4 | 2 | | | |
| Clubhouse Beach | Beach | 24 | 4 | 3 | | | |
| Darwin's Place | Ground | 8 | 2 | 3 | yes | yes | |
| East Clubhouse Beach | Beach | 24 | 4 | 3 | | | |
| Ernest Coe *** | Ground | 8 | 1 | 3 | | | |
| Graveyard Creek | Ground | 12 | 4 | 3 | yes | yes | yes |
| Harney River | Chickee | 6 | 1 | 1 | yes | | yes |
| Hell's Bay | Chickee | 6/6 | 1/1 | 1 | yes | | yes |
| Highland Beach | Beach | 24 | 4 | 3 | | | |
| Hog Key ** | Beach | 8 | 2 | 2 | | | |
| Ingraham *** | Ground | 8 | 1 | 3 | | | |
| Joe River | Chickee | 6/6 | 1/1 | 1 | yes | | yes |
| Lane Bay | Chickee | 6 | 1 | 1 | yes | | yes |
| Lard Can | Ground | 10 | 4 | 2 | yes | | |
| Little Rabbit Key | Ground | 12 | 4 | 2 | yes | yes | yes |
| Lopez River | Ground | 12 | 3 | 2 | yes | yes | |
| Lostman's Five | Ground | 15 | 3 | 3 | yes | yes | yes |
| Mormon Key | Beach | 12 | 2 | 3 | | | |
| New Turkey Key | Beach | 10 | 2 | 2 | yes | | |
| North Nest Key | Beach | 25 | 7 | 7 | yes | | yes |
| North River | Chickee | 6 | 1 | 1 | yes | | yes |
| Oyster Bay | Chickee | 6/6 | 1/1 | 1 | yes | | yes |
| Pavillion Key | Beach | 20 | 4 | 3 | yes | | |
| Pearl Bay **** | Chickee | 6/6 | 1/1 | 1 | yes | | yes |
| Picnic Key | Beach | 16 | 3 | 3 | yes | | |
| Plate Creek | Chickee | 6 | 1 | 1 | yes | | yes |
| Rabbit Key | Beach | 8 | 2 | 2 | yes | | |
| Roberts River | Chickee | 6/6 | 1/1 | 1 | yes | | yes |
| Rodgers River | Chickee | 6/6 | 1/1 | 1 | yes | | yes |
| Shark Point ** | Ground | 8 | 1 | 3 | * | | |
| Shark River | Chickee | 6 | 1 | 1 | yes | | yes |
| South Joe River | Chickee | 6/6 | 1/1 | 1 | yes | | yes |
| Sunday Bay | Chickee | 6/6 | 1/1 | 1 | yes | | yes |
| Sweetwater | Chickee | 6/6 | 1/1 | 1 | yes | | yes |
| Tiger Key | Beach | 12 | 3 | 3 | | | |
| Turkey Key | Beach | 12 | 3 | 3 | | | |
| Watson's Place | Ground | 20 | 5 | 2 | yes | yes | yes |
| Watson River | Chickee | 6 | 1 | 1 | yes | | yes |
| Willy Willy | Ground | 10 | 3 | 3 | yes | yes | yes |
| | |
| --- | --- |
| * | No toilet facilities - bringing portable toilet recommended. |
| ** | Shallow water approach; recommended for canoes/kayaks only. |
| *** | Ernest Coe and Ingraham are accessible on foot or bicycle only. |
| **** | The Pearl Bay Chickee is accessible to people with mobility impairments. It features handrails, a canoe dock, and an accessible chemical toilet. |
---
Write to request a printed copy of the park map and Backcountry Trip Planner:
Everglades National Park, 40001 State Road 9336, Homestead, FL 33034.
The length of stay limits indicated above apply to the peak use season from mid-November through late April. Campsite capacities apply year round. Capacities are subject to change; check at the ranger station before departing.
---