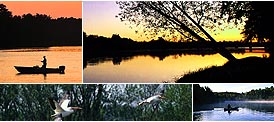 Florida Boating Tips

Always be careful with gasoline. Be sure to keep fuel lines tight and bilges clean at all times and use care when refueling. Whenever possible, motors and detachable gas tanks should be refueled when boat is at a dock or beached.

Do not overload your vessel. Maintain an adequate amount of free-board at all times. Keep an alert lookout. Watch out for swimmers who may be outside designated areas or a diver down flag. Watch your wake - it might capsize a small craft or disrupt anglers in the area. Keep fire extinguisher and lifesaving equipment in good condition and ready at hand. When children are aboard a vessel, they should wear a life preserver at all times. State law requires children under six years old to wear life jackets at all times while the boat is underway. If you should capsize, stay with the boat if it continues to float.