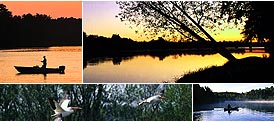 Saltwater Habitats

Beaches and Dunes
Florida's sandy coastline rings most of the state except for the Big Bend and Ten Thousand Islands regions along the Gulf coast and the Florida Keys. Most of this 745 miles of beach occurs on barrier islands. Beaches are highly dynamic areas. They are subjects of frequent change because of winds, waves and tides. The beach and dune habitat includes the unvegetated beach, and the dune zone up to the point where the stable vegetation of the maritime forests begin.
Landward of the non-vegetated beach zone, is the foredune area. The species inhabiting this zone vary depending on location. Sea oats are found in this zone throughout the state and there will be several other, low growing species in association with this species.
Generally, the vegetation is sparse closest to the active beach and transitions to an association of grasses and shrubs. The species composition varies depending on location. Along the northeast beach wax myrtle, silverling, southern red cedar, and cabbage palm are dominant. The southeast coast has purple muhly grass, sea grape, saw palmetto, Spanish bayonet, and agave. nickerbean, bay cedar, catsclaw, buckthorn, lantana, joewood, and several species of grasses dominate the southwest coastline while woody goldenrod, rosemary and Gulf Bluestem make up the dune transition zone in the Panhandle.