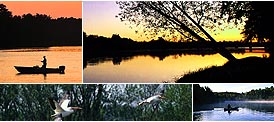 DELNOR-WIGGINS STATE RECREATION AREA
RECREATIONAL ACTIVITIES
Behind the secondary dunes, the maritime hammock provides shade for picnics. Tables and grills are grouped throughout the park's hammock with easy boardwalk access from each of the five parking lots. The one mile plus of sugar sand beach is a favorite place to swim, shell and sand sculpture. There are bathhouses with changing stalls, and outdoor showers near each parking area. The boat launch provides access to the back bays, Cocohatchee River and the Gulf of Mexico, providing visitors with excellent fishing opportunities. The most popular place to fish is Wiggins Pass. It is the only area along the park's beach where fishing is allowed. A pavilion is located at the north end of the island and is available for rental.
RANGER PROGRAMS
A variety of interpretive programs are offered throughout the year. The month of May marks the onset of the Loggerhead turtles' nesting activities. On Wednesday mornings, from June through October, you may join the rangers on the beach for an up-close look at nesting or hatching results. The "winter series" takes place December through March. The Wednesday morning programs beginning at 9am, cover many habitats and activities. In these programs Rangers present information on birding, fishing and kayaking adventures. Beach walks, native plant walks and wildlife watches are very popular activities. Class size is limited and reservations are required. Programs can be scheduled for an individual group of eight or more people with a two week advance notice.
---

SUPPORTERS OF DELNOR-WIGGINS PARK, INC.
The Supporters of Delnor-Wiggins Park, Inc. is a non-profit group established to protect, preserve and support Delnor-Wiggins Pass State Recreation Area. The Supporters raise funds and provide volunteer services to improve your enjoyment of the park. As a member of the Citizens Support Organization, you will receive informational newsletters, attend outings, participate in special events and explore the park to discover areas often unseen by casual visitors. Volunteer positions are available for a wide variety of interests and expertise. Anyone interested in becoming a member of the Supporters of Delnor-Wiggins Park, Inc. can obtain an application form by calling the park at (941) 597-6196, or writing to the park at:
Delnor-Wiggins Pass State Recreation Area
11100 Gulfshore Drive, Naples, FL 34108.