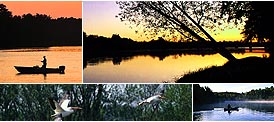 Everglades National Park
Included in this page:
Address | Hours | Climate | Directions | Transportation
Fees | Facilities | Activities | Trails and Roads | Lodging and Camping
Boating and Fishing | Food and Supplies | Accessibility | Adjacent Attractions
Everglades National Park is the largest remaining sub-tropical wilderness in the continental United States and has extensive fresh and saltwater areas, open Everglades prairies, and mangrove forests. Abundant wildlife includes rare and colorful birds, and this is the only place in the world where alligators and crocodiles exist side by side. The park is 1,506,539 acres (606,688 hectares) in size. It is a World Heritage Site, an International Biosphere Reserve, and a Wetland of International Significance.
---
VISITATION:

Highest from December through April; lowest May through November.

Everglades National Park
4000l State Road 9336
Homestead, FL 33034-6733

(305) 242-7700
(8:30 a.m. to 4:00 p.m. EST)

OPERATING HOURS AND SEASONS:

Main entrance (near Homestead and Florida City): Open daily, 24 hours a day. The Ernest F. Coe Visitor Center is open from 8:00 a.m. to 5:00 p.m. daily. The Royal Palm Visitor Center is open daily from 8:00 a.m. to 4:15 p.m. The Flamingo Visitor Center is open from 7:30 a.m. to 5:00 p.m. November through April.
Chekika: Open Monday to Friday, 9:00 a.m. to 6:00 p.m., and weekends 8:00 a.m. to 6:00 p.m. Gates are locked at closing. Campers are allowed access in and out of the campground after closing, but need to register before 5:00 p.m. to obtain the gate combination from a ranger or camp host.
Shark Valley: Open daily, 8:30 a.m. to 6:00 p.m. The Visitor Center is open daily from 8:30 a.m. to 5:15 p.m.
Gulf Coast Visitor Center (in Everglades City): Open daily, November to April 7:30 a.m. to 5:30 p.m. and May to November 8:30 a.m. to 4:30 p.m.

The Everglades is mild and pleasant from December through April, though rare cold fronts may create near freezing conditions. Summers are hot and humid, with temperatures around 90 degrees (32°C) and humidity over 90%. Afternoon thunderstorms are common and mosquitoes are abundant. Wear comfortable sportswear in winter; loose-fitting, long-sleeved shirts and pants, and insect repellent, are recommended in the summer.

For a 24-hour weather service recording out of Miami, call 305-661-5065, or get the current forecast for Miami, Homestead, or Naples.

DIRECTIONS:

Visitors to the main park entrance and Flamingo, coming from the Miami area and points north, may take the Florida Turnpike (Route 821) south to the Florida City exit. Turn right at the first traffic light onto Palm Drive and follow the signs to the park. Visitors driving north from the Florida Keys should turn left on Palm Drive (344th Street) in Florida City and follow the signs to the park.
Visitors to Shark Valley may take the Florida Turnpike to the exit for SW 8th Street (also known as U.S. 41 and Tamiami Trail). Travel 25 miles west on U.S. 41 to signs marked Shark Valley. From the Naples area, take U.S. 41 (Tamiami Trail) east to signs marked Shark Valley.
Visitors to the Gulf Coast Visitor Center should take U.S. 41 west from the Miami area to the intersection of U.S. 29, then take U.S. 29 south three miles into Everglades City and follow the signs to the park visitor center. From the Naples area, take U.S. 41 east and turn south on U.S. 29.
Visitors to Chekika should take Krome Avenue (S.W. 177th Ave.) north from Homestead or south from U.S. 41. Go west on SW 168th Street and follow the signs to the park.

Miami and Fort Myers are serviced by international airports, buses, and numerous car rental agencies. Miami has an Amtrak station.The park may be explored by personal vehicle, commercial tour bus, bicycle, motor boat, or canoe. There is NO public transportation in the park.

Admission fees are ten dollars ($10) per car or five dollars ($5) per pedestrian/cyclist at the main entrance; eight dollars ($8) per car or four dollars ($4) per pedestrian or cyclist at Shark Valley and Chekika. An Annual Pass may be purchased for Everglades National Park for twenty dollars ($20), and a Golden Eagle pass, good for entrance to any U.S. National Park for one year, may be purchased for fifty dollars ($50). Golden Age and Golden Access Passes are also available. Entrance fees are not charged at Gulf Coast.

Visitor centers are located at the main entrance (west of Homestead), Royal Palm, Flamingo, Shark Valley, and Gulf Coast (south of Everglades City).

Ranger led walks and talks are offered year-round from the Royal Palm Visitor Center west of the main entrance, and at Flamingo, Shark Valley, and Gulf Coast during the winter months.

Boat tours are available year-round at Flamingo and Gulf Coast. For information and reservations, call Flamingo Lodge Boat Tours at 941-695-3101, or Everglades National Park Boat Tours at 941-695-2591.

Tram tours are available at Shark Valley year round; call 305-221-8455 for information and reservations.

Educational programs may also be arranged. Everglades National Park sponsors on-site curriculum-based education programs for local 4th, 5th, and 6th graders. Participation in these programs is by advance reservation, and teachers are required to attend training workshops before bringing their class to the park. To obtain information about ranger-led education programs, or to obtain more assistance in planning your own field trip, call the Everglades Environmental Education Office at 305-242-7753.

The main park road winds 38 miles from the main entrance to Flamingo. U.S. 41 leads to the Shark Valley entrance, and U.S. 29 leads to the Gulf Coast Visitor Center. Parking is available for buses at all visitor centers. Visitor parking is available at all visitor centers and most trailheads.

Hiking and biking trails are located at various points along the main park road and at Shark Valley.

Canoe trails are popular in the Flamingo area and at Gulf Coast. In addition, a 99-mile canoe trail, known as the Wilderness Waterway, connects Gulf Coast to the Flamingo area.

The Flamingo Lodge is the only lodging available in the park. It is open year-round, with 103 rooms, and 24 cottages with kitchen facilities. A restaurant and cafe are open during the winter. For further information and reservations, contact Flamingo Lodge, Marina, and Outpost Resort at 1-800-600-3813 or 941-695-3101.

Campgrounds are located at three places in the park, with tent and RV sites, restrooms, and water. There are no hookups in the park. All three campgrounds are open year round. Reservations may be made for November 24, 1998 through April 30, 1999 at the Long Pine Key and Flamingo Campgrounds by calling 1-800-365-2267 in the U.S., 301-722-1257 outside the U.S., or 888-530-9796 with a TDD for the hearing-impaired.

Backcountry camping is also available. Reservations for designated campsites may be made in person up to 24 hours before entering the backcountry. There are three sites accessible by foot and 43 additional sites available in Florida Bay, along the Gulf Coast, and inland, accessible by canoe or boat. All supplies must be carried in and out of the backcountry, including water. Fees for backcountry camping are $10 for 1-6 people, $20 for 7-12 people, and $30 for 13 or more people.

Boating is popular in the Everglades, as many parts of the park are only accessible from the water. There is a marina at Flamingo. A boat launch fee of $5 for a 7-day pass or $60 for an annual pass is charged. The 7-day pass fee for a non-motorized boat is $3.

Fishing, in the inland and coastal waters of the Everglades, is also excellent and can be enjoyed year-round. Freshwater and saltwater fishing require separate Florida fishing licenses.

There is a restaurant and store at Flamingo. The restaurant may be closed during the summer; however, food is always available at the marina store. Local restaurants and grocery stores are available in Homestead, Florida City, Everglades City, and Miami. There are no banks or automatic teller machines in the park. Gasoline may be obtained at the Flamingo Marina, and in communities adjacent to the park.

Other Concessions and Visitor Facilities:

The Florida National Parks and Monuments Association manages bookstores at the Ernest F. Coe Visitor Center, Royal Palm Visitor Center and Shark Valley Visitor Center. TW Services operates a gift shop at the Flamingo Visitor Center during the winter months. Everglades National Park Boat Tours operates a gift store in the Gulf Coast Visitor Center year-round.

Accessible facilities and trails may be found throughout the park. All of the park's visitor centers, most interpretive trails, some of the Flamingo boat tours, and the Shark Valley tram tours are wheelchair accessible. There are accessible campsites at all three campgrounds in the park, and one primitive backcountry campsite, at Pearl Bay, is accessible to people with mobility impairments. Audio programs and captioned movies are available at most visitor centers.

RECOMMENDED ACTIVITIES:

Walking and canoe trails, boat tours and tram tours are excellent for viewing wildlife, including alligators and a multitude of tropical and temperate birds. Camping, whether in the backcountry or at established campgrounds, offers the opportunity to enjoy what the park offers firsthand. Ranger-led activities, offered throughout the park, may help you to enjoy your visit even more.

Everglades National Park is the third largest park in the United States, outside Alaska. Plan on staying at least one day and perhaps several to get a good feel for what the park offers.

RESERVATIONS AND PERMITS:

Reservations may be made at the Long Pine Key and Flamingo Campgrounds. Permits are required for backcountry camping. Film permits and special use permits are handled on an individual basis; call 305-242-7700. For research and collection permits, call 305-242-7800.

SUN AND MOSQUITOES:

Visitors are advised to bring drinking water and snacks since these items are sparsely located. (However, snacks are not permitted on interpretive trails.) Since sun and insects are likely to be abundant, sun screen, protective clothing and insect repellent are advised. Insects can make a visit unbearable during the summer months if you are not prepared. Information on mosquito levels during the summer is available at (305) 242-7700 (8:30 a.m. to 4:00 p.m. EST).

Biscayne National Park, Big Cypress National Preserve, Dry Tortugas National Park, the Florida Keys National Marine Sanctuary and various National Wildlife Refuges are all in the south Florida area. Several State Parks are in the area as well. Miami, the Florida Keys, and Naples offer a wide variety of attractions.

For information on the facilities outside the park, please contact the Chamber of Commerce or Visitor Bureau in the area of interest. --


ADDITIONAL INFORMATION:

Write: Information, Everglades National Park, 40001 State Road 9336, Homestead, FL 33034-6733.... Or call: 305-242-7700, 8:30 a.m. to 4:00 p.m. EST.

To explore recent research related to the Everglades, visit the Everglades Information Network (http://everglades.fiu.edu) at Florida International University.